Electronic Circuit Breakers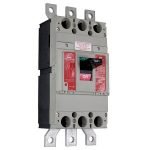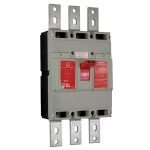 Features:
Highly accurate adjustment of current rating to give close overload protection with adjustment in steps from 100% down to 50% rating.
Adjustable short time delay tripping to discrimination between inrush current and short circuit currents, making the electronic breaker ideal for motor starting.
Long and short time delay tripping adjustment to provide selective coordination between main and branch circuit breakers, giving increased continuity of services.
The trip unit is not affected by change in ambient temperature with the normal operating temperature range of the circuit breaker.
Trip button (push to trip) for mechanically confirming the operation of auxiliary or alarm switches and the circuit breaker.
Electronic circuit breakers can be mounted horizontally, vertically, or on their sides. So the mounting position does not change the tripping characteristics.
Robust printed circuit board for long service reliability and exact repeatability of tripping characteristics.
Applications:
Mixed Loads
General Distribution
Commercial Buildings
Light / heavy Industrial plants
Mining
Main feeder
No products were found matching your selection.